Angélique Kidjo is one of the greatest forces in African music, a creative energy with eleven international albums to her name. Time Magazine has called her "Africa's premier diva". The BBC has included her in its list of the continent's 50 most iconic figures and the Guardian has listed her as one of their Top 100 Most Inspiring Women in the World. In 2007, her album Djin Djin received a GRAMMY award. In 2010 Kidjo shared the stage with Alicia Keys, John Legend and Shakira for the FIFA World Cup Opening Ceremony in Johannesburg South Africa.
Kidjo's most recent release, 2010's Oyo featuring John Legend, Bono and Dianne Reeves, is a measure of her maturity. The album is deeply introspective, reflecting on the events that have brought Kidjo to this point.
Born in the West African state of Benin, Kidjo is a tireless campaigner for women's health and education in Africa, a UNICEF Peace Ambassador and a prolific songwriter. "When your history is not written, you count on storytellers and traditional singers in Africa to tell you who you are, what your family's about and what is going on in your society. This is what I do with my music, because I am a witness of my time."
Between 1972 and 1989 Benin was run as a Marxist state under Mathieu Kérékou who took over in a military coup d'état. Kidjo was forced into exile in order to avoid imprisonment. Her friend and mentor Miriam Makeba was a constant source of guidance. "Miriam Makeba was the African role model that I needed. She left Africa and went to America, she was really the pan-African artist and I needed somebody like that. She's really the person behind my choice of life of being a singer." Makeba's campaigning against apartheid, which cost her the right to South African citizenship and resulted in a 30-year exile, will be remembered as strongly as her music. Similarly, Kidjo's campaigning for UNICEF, the United Nations Children's Fund, as well as her own organization, Batonga Foundation, which provides African girls with an education, will go down in the annals of history.
As a child, Kidjo was constantly surrounded by traditional and foreign music: Beninese singers but also the records of James Brown, Carlos Santana and that influence is heavily marked on the new album. "Without music I don't think I would have had the adolescence and the childhood that I had," she says, recalling that she was just six when she first appeared on stage. 'Atcha Houn,' a traditional track of staccato vocals laid over the sparse plucking of a guitar, was the song she sang as a young girl and features on Oyo.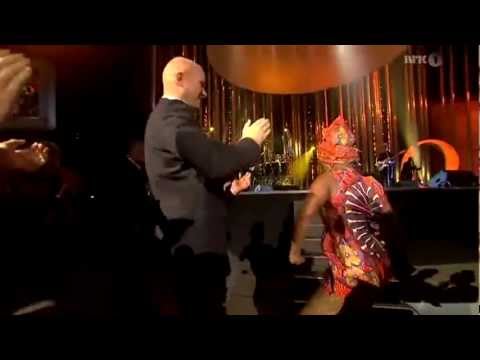 UK Representation