Formed in the summer of 2010 by ex Findo Gask members Gerard Black (currently with Francois And The Atlas Mountains) and Michael Marshall along with Thomas Ogden and Amaury Ranger, Babe have been making music across the channel from their native homes in Glasgow and Bordeaux.
Their debut album Volery Flighty – conceived and produced entirely by Gerard and the band, and featuring friends from Glasgow's indomitable music scene (including Lauren Mayberry on backing vocals and Ricky Egan from Tangles) – couples the group's international outlook through Gerard's chamber pop sensibilities to foster something at times pensive and oblique, at others direct, fun and buoyant. An off-kilter humour and sideways glance at life runs throughout Volery Flighty.
Volery Flighty embodies this French / Anglo alliance in it's themes and sentiments. Trip Wire, Black says, "was us trying to fit in with Amaury and his French pals. The first time I ever went to France we sang along to MJ's Rock With You and drank 1664 by the river when the sun was out. Michael and I recreated this feeling in his bedroom on a dark winter night in freezing Fife." Debut single Aerialist Barbette – named after a 1920's cross dressing trapeze artist who dazzled audiences in Paris – was the quartet's first song and showcases Black's skyscraping falsetto vocal and signature style.
Tilt urges everyone "including myself (says Black) to be more bold and daring" and "was an excuse to put the word "brouhaha" into a song." Dot And Carry One kicks off proceedings – "initially supposed to sound like the Cocteau Twins but thankfully Michael said "you can't do that" and it got pulled in a thousand different directions" with final track Bronco ending things "on a happy note." "The final section felt so good we decided to fade it out to give the impression that it could go on forever…" Five short films successfully funded by a Kickstarter campaign will accompany the album's release.
In between Gerard and Amaury's intensive schedule as members of Francois & The Atlas Mountains, Babe have supported the likes of Everything Everything, Anna Calvi, Slow Club and Francois along with their own solo shows.
"wonderfully strange conflation of Wild Beasts-esque falsetto, a fidgety musical backdrop of chiming guitars and delicate electronic textures" - The Guardian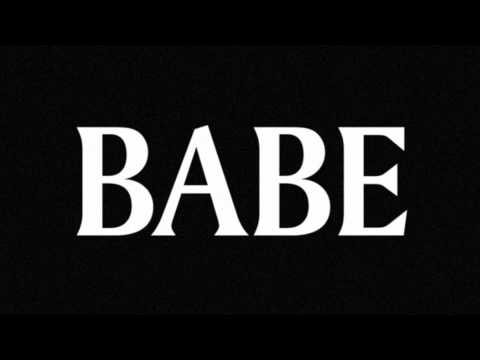 Europe Representation