Tiken Jah Fakoly has always taken risks. Since "Mangercratie," in 1996, he integrated the tongue of the Abidjan pavements, the root-est in all his merry arrogance that has ever caressed our eardrums. The most political as well: saying it as it is, the four truths to the face of the despots, destabilizing the official history, Tiken challenged the disinformation standing out as the spokesman for millions of young African people. Without doubt, he joined the lineage of the Peter Tosh and the Bob Marley, the noblest branch in reggae: like them, he has become "the voice for those without voices."
After fifteen years of career, one Victoire de la Musique and several gold records, Tiken Jah Fakoly seemed to have nothing left to prove. His tenth album would have accommodated a good enough report. But as usual, Tiken took a risk. Unexpected, exciting, impeccably produced, "African Revolution" is exactly what he claims: African and revolutionary.
Tiken made his models on a motionless "riddim," Jamaican style, with a Thomas Naïm subtle guitar (known in particular for his work with Hindi Zahra). A trip to Tuff Gong, Bob Marley's studio in Kingston, was inevitable to place these three rhythmic sizes: Glen Browne (bass), Marc Dawson (drum kit) and Mickey Chung (guitar). Then there was Bamako. It is there, in his studio that Tiken concocted the music on the border of reggae and the "mandingue blues."
The magic tones of ngoni, kora, soukou (violin with one chord) and balafon were familiar to us, but Tiken knew how to capture their soul. Five years of exile in Bamako enabled him to penetrate into the talented generation of the Griot sons, such as the player of ngoni Andra Kouyaté. Tiken wrote most of the songs, sometimes assisted by his old accomplice from Magyd Cherfi ,Jeanne and Féfé (Saïan Supa Crew).
But the way Tiken approaches the subject of Africa became more personal. It is a more intimate, more sensitive Tiken that we discover. African Revolution stands out as a ranging-milestone, not only for the artist, yet for all the reggae stages. But above all, this album transcends the genres and projects a new sound, anchored in the tradition and modern determination, so that Africa will never cease to charm and amaze us.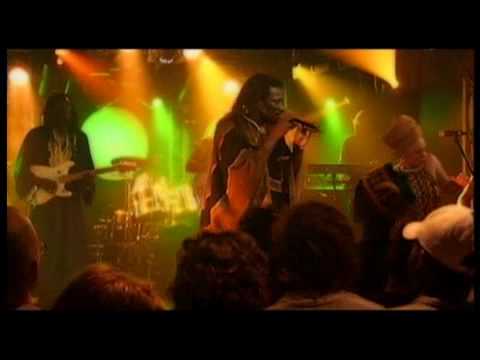 UK Representation